A Complete guide About Kabuki Brush
2022.09.15 / By mengheya
Kabuki Brush:
A common kind of cosmetics brush, the kabuki brush is characterized by its compact grip and densely packed bristles. It takes its name from the Japanese Kabuki singing and dancing theatre, which is famous for its lavish make-up. The makeup plays a significant role in the personalities, and the shape of the brush makes it possible to apply the heavy makeup consistently throughout the whole face. The heads of most kabuki brushes are spherical.
Use of kabuki brush:
An organic make-up tool that may be used in a variety of ways is called a Kabuki brush. You can use one of these brushes in a variety of different ways. When applying liquid foundation or concealer over vast areas of the face, a kabuki brush is the tool of choice. The makeup is distributed evenly throughout the skin thanks to the brush's unique shape. Because of the generous size of the base, it may also be used to put makeup on wider portions of the skin, such as the neckline and the cleavage. Makeup may be applied with a spherical kabuki brush by first picking up the foundation with the brush and then swirling it. Then, using a round, spinning movement, touch lightly to remove any excess material, and spread it over the regions required.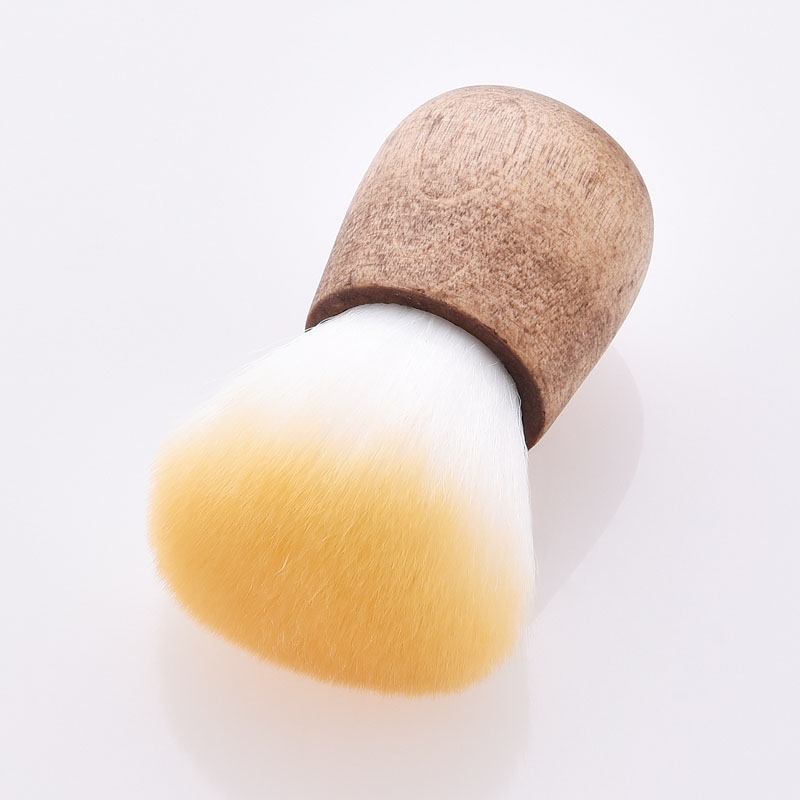 In the following paragraphs, we will walk you through the steps required to properly apply makeup with four distinct kinds of kabuki brushes.
1. Spherical :
To ensure that your makeup stays in place from morning till night, you should set it using a setting powder. This will help your appearance to be more long-lasting. The traditional spherical kabuki brush should be used at this point in the process. When you are prepared to set your mascara, just dust all over your skin using gentle movements after dipping the brush into the Powder. This may be done whenever you are ready.
2. Domed :
It is possible to think of a domed kabuki brush as a more compact version of the regular kabuki brush. This brush is perfect for putting illuminator, blush, and powder because the base is still circular and has a traditional form. In the same manner, as with the other kabuki brushes, all you must do to apply powder is brush it on after dipping your instrument into the compact. When working with this form brush, use gentle movements. You may also use kabuki with a dome to fix the isas of the face that are difficult to access, such as the corners of the nose and the region beneath the eyes.
3. Straight Top :
The flat-top kabuki brush is a multipurpose tool that elevates the application of makeup to the next level. This brush is known to combine effectively with a wide variety of bases, including face powders and watery foundations. Applying liquid foundation to your skin with a brush and stippling and buffing it in will give you completely flawless protection.
MHYA wooden :
You don't have to limit your usage of makeup to just your face—you may accentuate your contours with the help of the MHYA Wooden Collection kabuki brush for head and face, which is sold separately. You should draw attention to your most attractive features, such as the base of the neck and the contours of your chest.
This kabuki brush has a long wooden handle, which will make it easier for you to put your goods in every region of your body in a comfortable manner. Any kind of makeup may be applied fast and evenly with assured immaculate results with a brush that has a vast span of luscious bristles firmly compacted into a cylindrical base. There are no exceptions. some features of wooden kabuki brushes are here:
Hair material: Nanofibers imitate hair, and the brush head constructed of nanofibrous hair has excellent elasticity and is gentle on the skin.
Tube: Strong aluminium duct that is shiny and long-lasting; the opening tube is tightly connected with the brush head and the brushing pole.
Grip: A stylish grip with a more comfortable grip that is both robust, functional, and fashionable.
Benefits of :
The following is a list of some additional benefits that come along with your brand-new kabuki brush:
You may use them for whatever kind of cosmetics you like. It makes no difference if it's a pancake, a crystal, a powder, or a solution. The use of a kabuki brush enables you to put your preferred makeup in a way that is fast, simple, and faultless.
They are of high quality and will serve you for a very long time. Because of the high quality of the substances used in their construction, kabuki brushes are designed to last for many years of regular usage. When you're putting cosmetics on your skin, the bristles are gentle, and the handles are comfortable to grasp.
They do not engage in any actions that are harmful to animals or the ecosystem. MHYA brushes do not include any animal products and have never been tried on animals. They are also not prone to shedding in the same manner that other brands are.
They provide you with comprehensive coverage. A kabuki brush is designed with flexible artificial hairs that can reach all the nooks and crannies of your skin. Whenever you put on your makeup with the assistance of this tool, you won't need to be concerned about leaving any areas bare.
As you can see, possessing a kabuki brush and utilizing it to put on makeup comes with a lot of advantages that are well worth considering. Because you have so many possibilities to select from, you'll never find yourself without the appropriate instrument when you need it most.
Conclusion:
You may use a Kabuki brush to apply basic beauty materials and highlighters, and we believe that it is the greatest form of a makeup brush to use while putting in bb cream and coloured moisturizers. Contact MHYA for the best quality makeup brushes. For more than ten years, MHYA has concentrated on the manufacture of kabuki brushes, and in that time, they have provided their services to a wide variety of kabuki brush companies all over the globe.