Things you need to know while choosing the best brush for blush
2022.09.16 / By mengheya
What is blush?
Blush is often considered to be one of the most iconic beauty items. As a result of its speed and simplicity of application, it is well suited for use as part of a daily makeup routine. You might also try using a blush that is more beige or brownish rather than one that is pink. Brownish colours may help balance the redness in your skin while still giving you a natural glow.
The use of blush is not going out of style, and it may have an important impact on the overall appearance of your makeup. Even if you don't believe that you need it, there are still several advantages to putting it on. Blush may serve to impart a healthy blush to your complexion, provide the appearance of increased alertness, and add depth to your features. You need the best blush brush if you want to attain a flawless look.
In this article, we will tell you about the importance of blush brushes.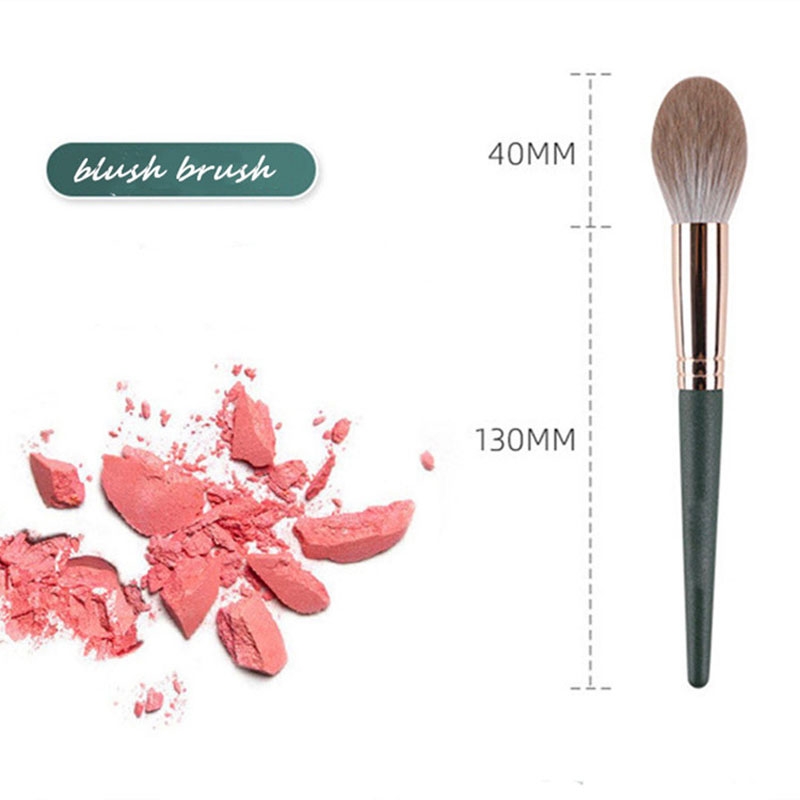 Brush for blush:
A rosy and sun-kissed beauty can be achieved by using the appropriate colour on the cheeks and face. The cheeks of a person are often the centre of attention. The best brush for blush is also known as rouge, to your cheeks. If you apply the makeup correctly, you'll be able to bring out the natural structure of your face while also drawing attention to your cheeks. The use of blush with the appropriate kind might help a person attain the appearance they are looking towards.
A blush brush may have bristles that are either soft or coarse, as well as bristles that are different sizes and shapes. Both types of natural and artificial forms of hair may be used to create them. The method by which a blush brush is used to apply makeup is going to be different depending on its texture, shape, and overall construction. You need to use a brush that is gentle and fluffy or one that is slightly softer, depending on your skin type. The best brush for blush with a softer bristle will take up less makeup and result in a more even and subtle application of colour to the face.
Best brush blush for your makeup kit:
There is an almost infinite variety of options available in size and form, and the one that is most suited to your schedule and way of life is going to be determined by that. Choosing the perfect brush may have a major impact on your makeup looks. A thick brush loads more colour and brilliance into a smaller space, while a fluffy brush provides a gentler application of the product. When applying blush to your cheeks, a blush brush with a rounder tip is best, while a brush with a more angled tip works best for placing the product on top of the cheekbones. Blush has the potential to provide warmth to the face and complexion, while also serving as a unifying agent for the lips and other facial features, which helps to maintain a classy appearance.
Tips to choose a blush brush:
There are a few different kinds of blush that demand various application techniques. The general rule is that you should follow this procedure: "Gently dip the brush into the product and brush the product softly over the back of the hand to push the product further into the bristles." Small, circular motions are required to evenly blend the blush on your cheeks.
It will give you the most natural-looking results. If you want your blush application to seem as natural as possible when using a cream formula, try applying it in a stippling motion beginning with a tiny quantity and gradually building it up while blending it in. By doing this, it will look so natural.
How to choose the best blush brush?
The type of brush:
It is crucial to keep this in mind while selecting the best brush for blush because the sort of coverage or intensity you want to achieve will determine the brush you choose. If you want a softer, more natural application, go for a fluffier brush; however, if you're looking for a more pigmented finish, a dense brush will pack on the colour and offer you a more intense finish.
The ideal size for the best brush for blush is no bigger than the fullest part of your cheek. You must think about the areas of your face that will get the blush application. Use a brush with a rounder shape to apply the product to your cheeks. A brush with an angle is ideal for applying blush to the cheekbone.
The quality of blush:
The blush powder is simple to blend. It is available in different colours and is effective even on those who have wider pores. Because it does not have a very long shelf life, you will need to reapply it every few hours to keep your glow.
A dewy look and long-lasting wear are both characteristics of cream blush. Because of this equilibrium, cream blush is an ideal choice for almost every skin tone. It is simple to apply, is available in a wide variety of hues, and imparts an appearance of vibrancy and vitality to the face. The warm weather is the perfect time to use gel blush brushes. They are a speedy method for imparting a radiant look of health to your face. They work well for skin tones ranging from light to medium.
Conclusion:
The best brush for blush can blend cream and powder blush. The blush brush makes it easy to catch your makeup with super dense hair. Go for MHYA makeup brushes. They are very good at manufacturing quality makeup brushes including blush brushes. MHYA is a trustworthy brand also they care for their customer's choices and needs. You will never regret buying their best products.