MHYA best foundation brush for powder with its features.
2022.09.16 / By mengheya
Every person who is interested in cosmetics should have at least one decent brush set in their collection. Makeup may be applied more quickly and easily with brushes, which also contributes to a more beautiful application of the item. Makeup brushes ultimately result in a perfect appearance. Investing in a high-quality brush set is a smart move for anybody who is just beginning their journey into the world of cosmetics. Because there is such a wide variety of best foundation brush for powder available, it is essential to have a solid understanding of which ones belong to which category before beginning any makeup application. Here is some information related to foundation and powder brushes.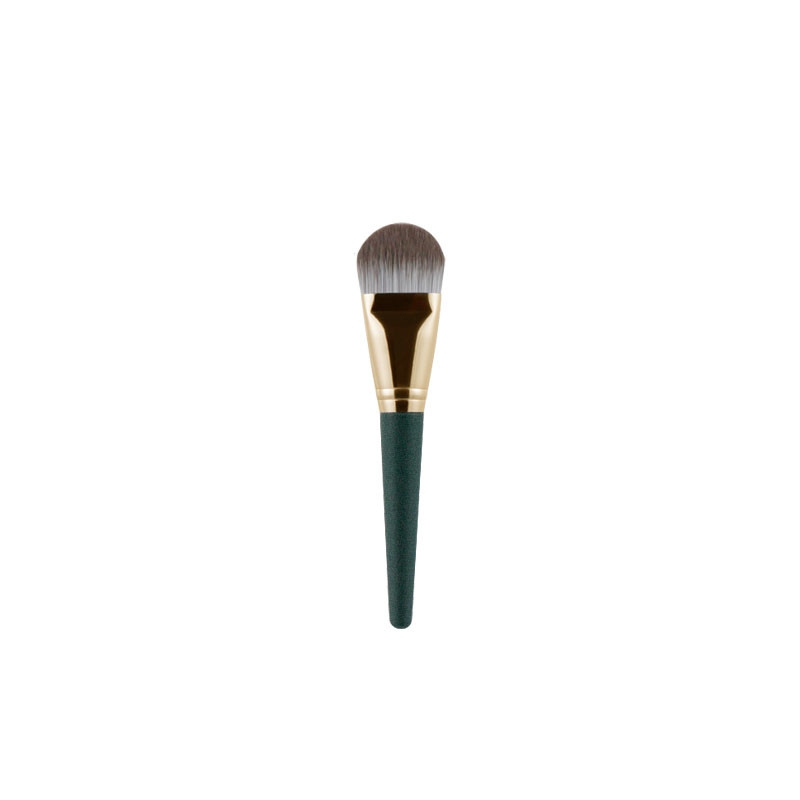 Foundation & Powder Brush:
After you have applied your base, you have the option of finishing your makeup by putting a coat of loose powder foundation. Utilizing this powder can assist your makeup to keep in place during the day, resulting in an even more perfect appearance on your face. A powder brush is one of the many distinct kinds of brushes. It is big and puffy. You may use a very minimal application of the product when you are applying it with a powder brush. In fact, before putting the base on your face, you need to remove the overload product that is on the brush. You can use a big, round, and fluffy best foundation brush for powder.
Some Best Powder Foundation Brushes Of MHYA
You may get a perfect appearance with the aid of the extensive variety of brushes offered by MHYA. The MHYA foundation brushes are described in more depth in the following paragraphs.
Full Coverage Foundation and powder Brushes:
However, experts agree that using your hands is the ideal method for spreading lip balm and blending concealer, while a foundation brush is necessary for achieving the greatest application. Regardless of whether you choose the wet, creamy, or powder route, choosing a fantastic foundation is not the last step in the procedure. To apply it, you will need a tool, since using your fingers is not always the best option. The kind of foundation that you use should guide your choice of brushes while applying foundation. Here are some features of MHYA's best foundation brush for powder.
This brush is made with a long handle and has extremely soft and voluminous bristles. These characteristics distinguish the powder brush.
Because brushes are made of hair, they need less foundation than sponges. Because of this, you end up saving money on various items. You can apply makeup to your face with more precision, resulting in full coverage that fades in seamlessly.
This brush is perfect for evenly spreading powder and foundation throughout the whole face. When you handle it, you will get a gentle and reassuring sensation because it contains many hairs.
Eco-Friendly black and white powder and foundation brush:
The curved grips were designed for precision and better control, and the bristles were made to be very gentle. The elegant black and white style adds a touch of elegance to your normal beauty regimen. This best foundation brush for powder not only looks great on the dressing table but also perfectly enhances the overall complexion, which is perfect for whether you are traveling or headed to a celebration. The brushes were crafted to be very delicate, and the curved handles were developed to improve accuracy and overall control of the tool. Your typical grooming routine will be elevated to a higher level of sophistication thanks to the chic black-and-white design of MHYA. Here are some features of the Eco-friendly powder foundation brush:
Brush heads composed of nanofibers have excellent elasticity and are gentle on the skin.
It has a high-quality aluminium tube with a very glossy and polished texture.
Thick and long-lasting.
Wooden handles and rods created from wood material are more comfortable to hold, more durable, and more attractive and elegant.
Cleaning tips for makeup brushes
If you don't clean your bristles, the germs and dust that is normally present in the surroundings will begin to gather on the bristles of the brushes. A filthy brush is an ideal environment for the growth of harmful bacteria, which, when present, may make pimples and other skin diseases much worse. You must clean your brushes on a consistent basis to put a stop to the formation of germs as soon as possible.
Brush the hairs with freshwater that is room temperature.
Put some of the cleaners that you choose to use in the middle of your fresh hand and rub it in.
In your hand, give the ends of the brushes a gentle massaging motion.
Perform thorough cleaning on the brushes.
Utilizing a dry towel, extract as much excess moisture as possible.
Put the brush's head slightly into the position it had when it was first made.
It is best to leave the brush to dry with its hair hanging over the side of a table. This will ensure that the brush dries in the proper form. Never allow your brushes to dry on a cloth since this might cause the bristles to get wet.
Conclusion:
You may put the foundation on your skin using an excellent flat foundation brush that has smooth hair, elastic, and a strong handle. You can use MHYA's best foundation brush for powder. There is widespread agreement that the MHYA Kabuki Brush is the best option. The brushes from MHYA may be trusted. Products from MHYA undergo strict quality checks before hitting the shelves, and their compact size and light weight makes them easy to bring along on trips.