What is a cleansing face brush?
2022.09.15 / By mengheya
In recent years the cosmetic product that has gained understandable popularity is the cleansing face brush. It is surprising how effortlessly it fits into your regular skincare routine. Most people know that the path to gorgeous skin begins with efficient washing. So, it might be depressing to learn how much filth and particles builds up on our skin every day and how much is left behind when we wash with only our hands, a regular sponge, or a rag. The truth is that by employing less-than-effective washing methods, dead skin cells and germs can accumulate on our skin, leading to problems.
The Multi-purpose beauty tool:
The best approach to uncovering your skin's natural shine and brilliance is to use a high-quality facial or body brush. Electric brushes include replaceable heads that deliver a comprehensive - yet delicate - cleaning experience while exfoliating, massaging, and soothing. Regular usage will provide you with flawless skin. A cleansing face brush removes pollutants, prevents acne, and promotes blood circulation.
How to use a cleansing face brush?
Begin by removing makeup so the face brush can focus on cleansing the skin rather than distributing it across the face.
Apply some face cleanser straight to the brush, such as our natural cleaning milk.
Apply the brush to the face and neck in tiny, gentle circular strokes.
Take special care around the neck and sensitive skin around the eyes. Pay close attention to crowded regions such as the nose and chin.
Take your time cleaning every region of your face with the brush.
After that, rinse with lukewarm water and wipe the face and neck dry.
Apply a toning product, such as our natural face toner, after cleaning with the cleansing face brush.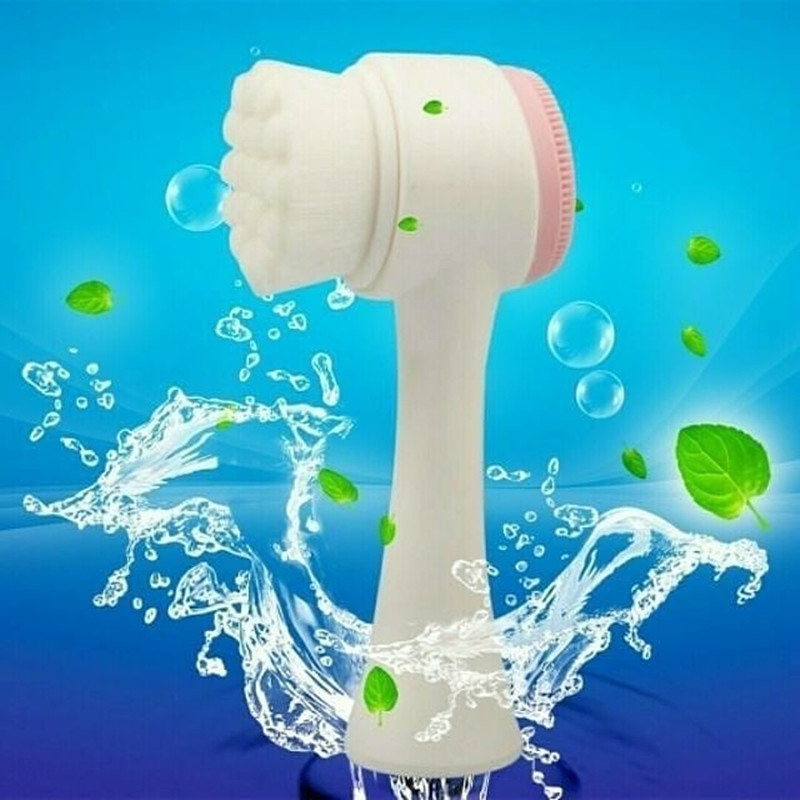 Best facial cleansing brushes to consider:
1.Olay regenerant faces cleansing device
The Olay regenerist face cleansing device is a low-cost brush that removes makeup and deep cleans your skin. It has two settings — one for everyday cleaning and another for intensive exfoliation — and a brush head rather than a silicone brush like the other products on our list. According to Olay, its washing brush is also water-resistant, making it suitable for use in the shower. After cleansing your skin, dampen the brush head and move the device across your face for 60 seconds.
2. PMD clean pro
PMD Clean Pro is a cleansing face brush that employs Sonic Glow technology to remove dirt and impurities from the skin while lifting and toning it with its 7,000 vibrations per minute. The device's opposite side is a unique Active Warmth heat therapy massager that has anti-aging properties and feels comforting on the skin, like a hot towel pushed on your face. According to PMD antibacterial silicone brush has four settings and can use for all skin types. PMD Clean Pro-face washing brushes come in four colours: navy with gold, teal with brushed aluminium, berry, and white. They also provide a collection of skin devices designed exclusively for teenagers and guys. You can assist your loved ones.
3. Shiseido cleansing brush massage
Shiseido Cleansing Massage Brush massages your skin with a blend of soft, tapered bristles and silicone cushions. The only non-electronic gadget on our list is this portable brush. However, because they are considerably more comfortable than other face brushes on the market, it is still a viable alternative for exfoliating, particularly for delicate skin. Shiseido's choice works well with foamy cleansers to help them penetrate deeper into the skin.
4. Proactive pro-cleansing brush
A beauty care brand recognized for its three-step acne-fighting strategy. This cleansing face brush assists you with smoother, more vibrant skin. The cleansing brush comes with two brush head attachments that rotate in a 360-degree circle. It gently exfoliates the skin. It makes your pores appear smaller. Proactive suggests using the medication once daily. If your skin is prone to drying out, you should limit your use to once or twice a week.
Benefits of a cleansing face brush:
Here are the numerous benefits of using a facial cleansing brush:
1. Cleanses and exfoliates your skin
A cleansing face brush is more effective than your hands or a washcloth for cleaning your skin. It quickly removes dead skin cells, residue, and grime from the skin.
2. Boosts blood circulation
Excellent circulation is the main factor in maintaining healthy, young skin. Your facial washing brush might improve your skin by boosting blood flow underneath the skin's surface. Improved blood circulation benefits capillary function. It delivers oxygen to the skin. A cleansing face brush increases circulation and makes it an anti-aging component for glowing skin.
3. Reduces pore size
Pollutant particles and cosmetics, in general, anything that clogs pores, affect pore size. The accumulation of particles in your skin might make them look bigger than they are. You can remove filth, and oil with a cleansing face brush and deep cleanser, enabling your skin to breathe and making pores less noticeable.
4. Deeper product penetration
A cleansing face brush aids deeper penetration of skincare ingredients into the skin, boosting absorption. It is a skincare booster, assisting products more effectively and without pollutant particles from hands.
Aside from the skincare advantages, incorporating this item into your regimen provides a compelling incentive to indulge in a soothing self-care session every night. This vibrating gadget can help you reduce mental tension. It revives you by making an upward circular motion massage across your face.
5. Evens skin tone
Aside from the skincare advantages, incorporating this item into your regimen offers you a good reason to smile. A cleansing face brush helps produce an even-looking complexion. It can assist in smoothing skin's surface and hiding spots. You see smooth fine lines and early wrinkles with a silicone face brush to enhance skin texture and regenerate skin. You obtain a radiant, flawless complexion while you engage in a peaceful self-care session.
Conclusion:
A cleansing face brush of MHYA may be an excellent addition to your skincare routine. You will experience advantages if you use them wisely, pay attention to what your skin needs, and keep them clean. Investigate your options before selecting a brush. Make sure the one you choose will provide you with the qualities you want. You can contact MHYA manufactures for quality brushes. They are very trustworthy and have a vast collection of makeup brushes.