What Kind Of Cosmetics Is A Fan Makeup Brush Suitable For?
2023.02.02 / By hqt
What Is A Fan Makeup Brush?
Fans are the most common type of brush shape. They come in all sizes and shapes, from small to large, with bristles that point out or down, and with different lengths of bristles.
A fan makeup brush is made up of soft, flexible bristles that are set at an angle to form a fan shape. Fan makeup brushes are used for applying liquid foundation or other face products, as well as blush and bronzer. Fan makeup brushes can also be used to apply highlighter along the cheekbones or nose, but they are not usually made for heavy contouring.
The angle of the bristles means that they can more easily reach into corners and creases of your face than other types of makeup brushes. Fan brushes are also great for blending out any harsh edges on your face after you've applied your base and concealer!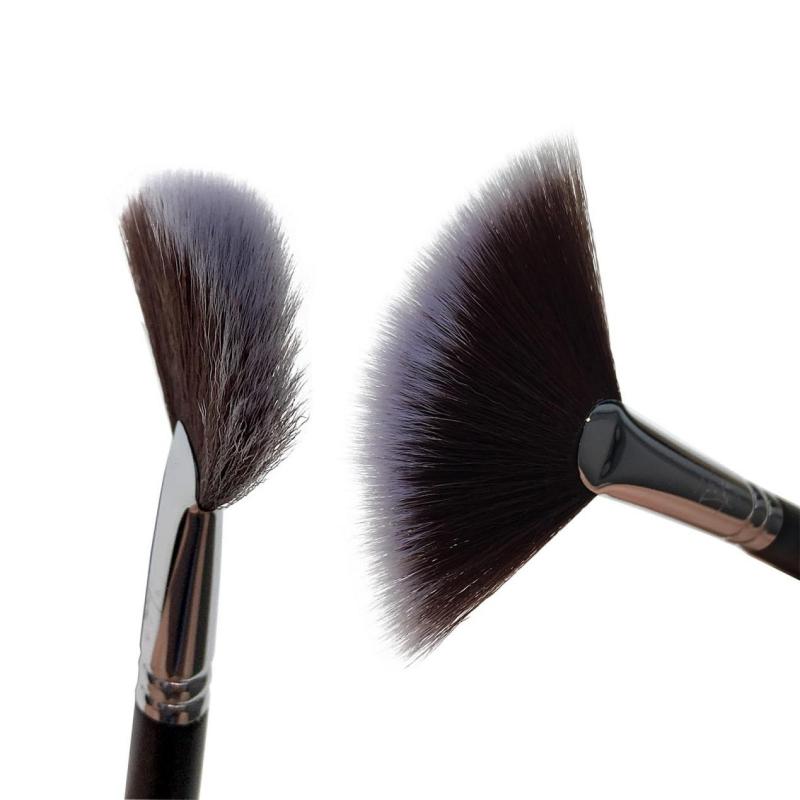 Angled fan:
This is one of the most popular types of fan makeup brushes because it gives you more control over where you want to apply your product. It's also great if you want to apply a lighter color all over your face, but don't want to blend it into any other colors on your cheeks or eyelids.
Small angled:
This type is similar to the angled fan makeup brush, but it's smaller and easier to use for smaller areas like around your eyes or nose. Because it's smaller than an angled fan brush, it doesn't give you as much control over where you put the product onto your skin, so you should only use this type if you're comfortable blending two colors together manually (i.e., not with a sponge).
You can find all these fan makeup brushes in MHYA. If you want to customize some unique shapes of makeup brushes, they also offer many different options, from the handle to the material of the bristles.
Is The Fan Makeup Brush From MHYA Made Of No-Cruel Hair?
The Fan Makeup Brush from MHYA is made of no-cruel hair. The synthetic bristles are cruelty-free and vegan, so you don't have to worry about them being made from animal hair.
In addition, MHYA also provides a biodegradable environmental protection handle, which is very rare in similar products. This means that even if the user decides to throw away the fan makeup brush that has been used for a long time, it will not cause adverse effects on the environment. This is a good advantage for environmentalist consumer groups.
Many different types of synthetic bristles are used in makeup brushes. Some are more durable than others, but they all tend to last a long time. This particular brush has a unique design that allows you to use it for many different applications.
MHYA uses micro synthetic hair as the bristle material of the fan makeup brush. In addition to this material, you can also customize your favorite bristles according to your budget or needs. Of course, we recommend that you consult the more experienced MHYA customer service team before making a decision.
Fan makeup brushes made of these materials have high aesthetic value and practical value, which can help you get good reviews from your consumers. Here are some of these advantages:
1. The bristles are soft, elastic, and durable. They won't break easily when you brush them on the skin. The brush is easy to clean and maintain because it doesn't absorb water or oil.
2. The bristles are not easy to fall off or break when they are used for a long time. This will minimize the damage to your face caused by the bristles that are too hard or too soft.
3. These materials don't contain any harmful substances such as lead, mercury, and cadmium, which can cause health problems if they are absorbed into the body through inhalation or ingestion.
What Kind Of Cosmetics Is A Fan Makeup Brush Suitable For?
In MHYA, there are fan makeup brushes made of different materials, so they have different characteristics. However, they all share common characteristics:
They are soft and flexible, so they can be used on different parts of the face such as the nose, cheeks, and forehead.
They are easy to apply makeup on your face because of their shape and size.
They help in creating professional-looking makeup results by providing great coverage for both liquid and powder products.
In general, any type of cosmetic product can be applied with this brush so long as you are using it correctly and appropriately.
You can use the fan makeup brush with powder, blush, and bronzer to create beautiful-looking contour lines on your face. It also works great for applying highlighter products onto cheekbones or other areas of the face that need a little extra glow!
Here are some examples of the practical application of a fan makeup brush in the makeup process, you can refer to these makeup techniques to get a more perfect makeup look:
1. To apply blush or bronzer:
-Dip the fan brush into powder products such as blush or bronzer and gently tap off any excess product from the bristles.
-Apply in downward strokes starting at the top of your cheekbones and moving towards your ears for a natural, flushed look.
2. To apply highlighter:
When applying a highlighter, apply it on the deepest hollows of your face, or wherever you want it to be highlighted. The fan makeup brush has fluffy and large bristles that add a natural glow to your face.
The Fan Makeup Brush Is Perfect For Your Business:
If you are combining your highlights and blush products with a suitable fan makeup brush for sales, MHYA will be your best partner. They have a factory building of more than 5,000 square meters and more than 100 professional employees. And also has fully automatic production equipment, which allows them to complete each order faster and better.
If the quantity you ordered is less than the minimum order quantity, you can also discuss it with the customer service team. They may be happy to ship it separately for you.