What Should Pay Attention To A Highlighter Brush Wholesale?
2023.02.02 / By hqt
What Should Pay Attention To A Highlighter Brush Wholesale?
In daily life, we often use a highlighter brush. Most of them are made of synthetic hair. They are widely used for highlighting the cheekbones, temples, and other parts of the face with powder or cream products. In addition to the shape, there are many factors that should be considered when choosing a highlighter brush wholesale.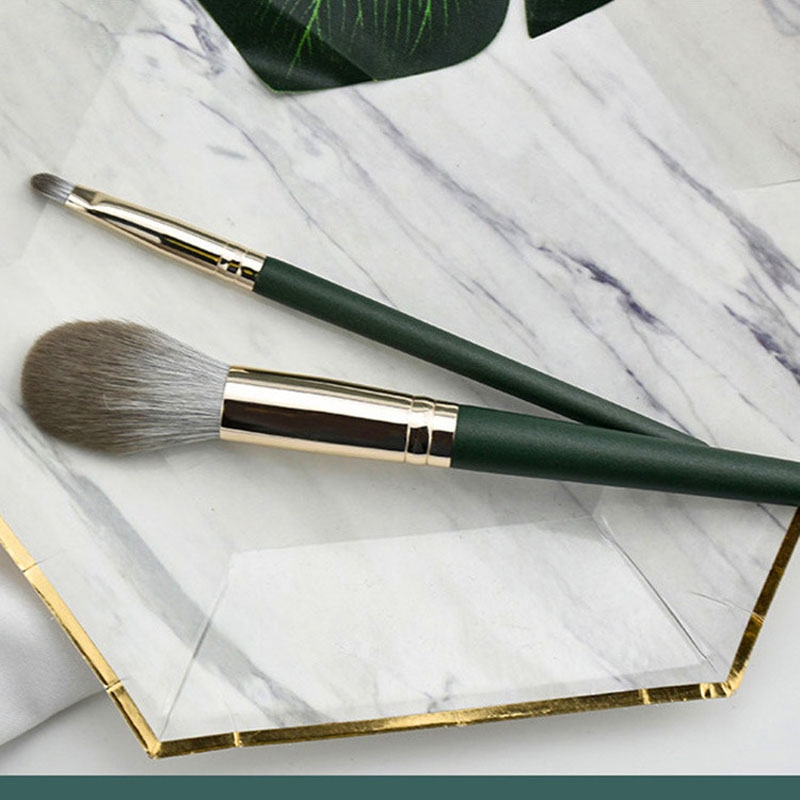 1. Material:
The material of the highlighter brush should be good and soft. It is best to choose a brush made of synthetic hair. Natural hair is more expensive, but it lasts longer than synthetic hair and can be washed many times.
2. Bristles:
There are two kinds of bristles: sharp-pointed and round-pointed. The sharp-pointed type is more suitable for highlighting the eyebrows, while the round-pointed type is suitable for highlighting the face.
3. Size:
The size of the highlighter brush depends on your own needs. Smaller brushes are easy to carry, but they are not suitable for highlighting large areas of ​​the face such as cheekbones and forehead.
When you choose the right supplier to book highlighter brush wholesale, there are some questions that you need to think about. Below are some common misconceptions.
Uncover Some Myths In The Highlighter Brush Wholesale:
As the name suggests, a highlighter brush is used to apply highlighters. The best way to use it is by patting it on the highlighter powder. This will help you achieve that beautiful glow without making your face look oily or greasy.
The best highlighter brushes are made of soft bristles that are gentle on your skin. The bristles should be synthetic and vegan-friendly so that they don't irritate your skin while applying makeup.
Many cosmetic store owners are always worried about not being able to buy suitable products when they are in the highlighter brush wholesale. Here are some common myths about highlight brushes to help you make a more informed choice:
Myth 1: Highlighters are only for highlighting
Highlighter brushes can be used for more than just applying highlighters. They can be used for applying blush and contour too! These brushes are versatile so you can use them for many purposes other than highlighting your face.
Myth 2: A Highlight Brush Should Have A Flat Shape
A flat shape is one of the most common shapes for highlighter brushes because it helps distribute the product evenly throughout your skin. However, this does not mean that all highlighter brushes should have this type of shape because there are also other shapes such as round and pointed which also work great with highlighting products!
Myth 3: Synthetic bristles are not good enough for applying makeup
Synthetic bristles are made up of nylon or polyester fibers blended with plastic and rubber. These fibers are easy to clean and do not heat up during use. Also, synthetic bristles do not absorb any product which makes them perfect for applying liquid or cream products like foundation and concealer. They blend well into the skin and give a natural finish as compared to animal hair bristles which tend to create streaks when applied on the skin due to their stiffer nature.
Benefits Of Synthetic Hair In Highlighter Brush Wholesale:
Synthetic hair is a type of hair that is made from nylon and other synthetic materials. It has been used in the beauty industry for decades. Synthetic hair is also known as artificial hair, and it is used for many different purposes.
If you are doing some highlighter brush wholesale preparations for your store, the highlighter brush made of synthetic hair is a very suitable choice. There are many benefits to using synthetic brushes over natural brushes. Some of these benefits include:
Durability:
Natural brushes tend to be more delicate than synthetic brushes, which makes them more prone to damage. Since synthetic brushes are not pure hair, they are less likely to break or lose their shape when they are washed or used frequently.
Affordable:
Synthetic brushes are often much more affordable to purchase than natural brushes. This is because synthetic brushes are made from man-made materials, whereas natural hair needs to be collected from animals and then processed into a usable form.
And MHYA provides customers with high-quality ODM or OEM services. If you choose MHYA as a supplier of highlighter brush wholesale, you can choose high-quality cruelty-free hair as raw materials. It's a great deal.
Can help you attract animal-friendly consumers:
In recent years, more and more consumers have been taking steps to reduce their environmental impact. These consumers may be looking for products that are cruelty-free or vegan. If you want to appeal to this demographic of buyers, it is important that you stock up on the highlighter brush wholesale made with synthetic hair instead of natural hair.
What Else You'd Better Pay Attention To Highlighter Brush Wholesale?
When preparing for highlighter brush wholesale, in addition to paying attention to the material, bristles, and size of the brush, there are some other things you'd better pay attention to:
1. The length of the brush:
The longer it is, the more versatile it will be. But it may be difficult to use on small areas like around your nose or eyes.
2. The handle:
The handle is a must-have part of any makeup brush, and it's also the most important part of a highlighter brush wholesale. Why? Because it helps you get the most comfortable experience when using it. When looking for a handle, make sure that it's not too long or too short for your hand. Also, if possible, try out different handles before making your purchase.
MHYA Offers Better Highlighter Brush Wholesale Service For You:
If you need a better quality highlighter brush wholesale, the door of MHYA is always open for you. They send 50 million cosmetic tools to the world every year, and they have also established long-term trade relationships with more than 20 countries such as the United States, Britain, Germany, France, Australia, Japan, and Southeast Asia. Therefore, MHYA is your reliable partner!