Why Do You Lip Gloss With A Brush Applicator?
2023.02.02 / By hqt
How Do You Apply Lip Gloss? What Troubles Do You Encounter?
Lip gloss is a cosmetic product that is applied to the lips for color, shine, and moisture. Some glosses are also used to create a subtle sheen over the lips. It comes in many colors and finishes, such as shiny or matte. Lip gloss is available in different consistencies: from thin liquids to thick gels.
Lip gloss has been around since at least the 1800s and was originally made out of beeswax and lanolin. Today, many types of lip gloss contain petroleum jelly or other oils, waxes, and butter. Lip gloss can be applied with fingers or a brush or sponge applicator wand.
Many girls' dressing tables have many different types of lip gloss, such as mirror lip glaze or matte lipstick. We sometimes follow beauty influencers to learn how to apply lip gloss, but sometimes we just don't get the perfect look we see in the videos. We sometimes encounter the following problems: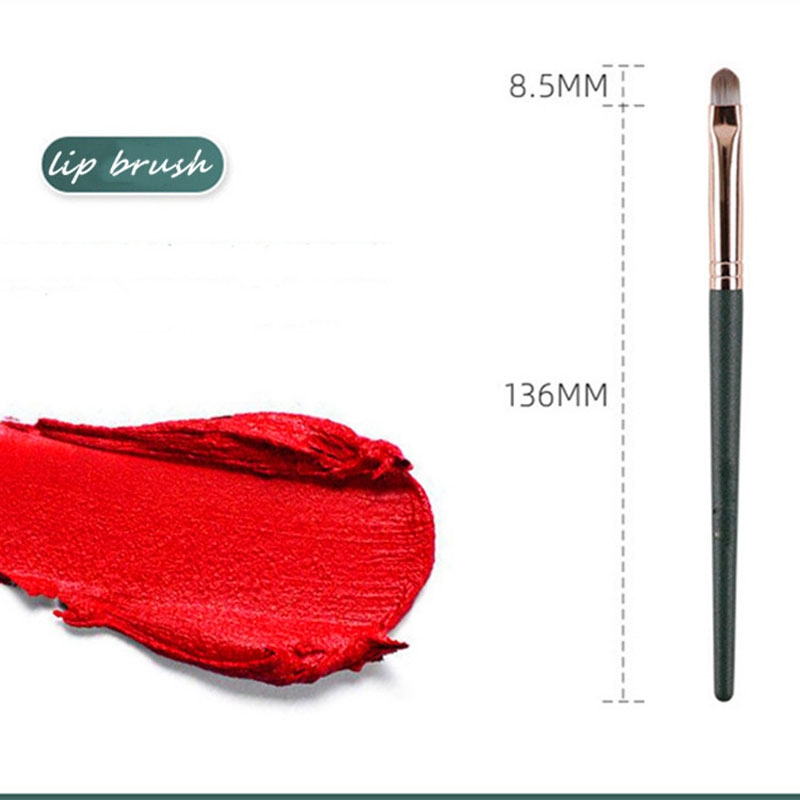 1. The color is wrong, so we can't find a suitable shade for our skin color.
2. The texture is too thick or too liquidy, so it's hard to control its application on the lips.
3. The lip gloss makes my lips dry and flaky after using it for a long time, which makes my lips look very ugly.
4. My lips are not as bright as those of other people who use the same lip gloss as me!
5. The color is too light and I want a darker shade.
6. It's hard to keep the gloss from smudging off my lips after eating or drinking something with it on.
Why Do You Lip Gloss With A Brush Applicator?
If you like to watch beauty influencers put on their makeup, you will find that their lip makeup looks very layered and very natural. Some look very plump, and some look very domineering. You will also see an internet celebrity lip gloss with a brush applicator.
In fact, lip gloss with a brush applicator is a must for anyone who is good at makeup. Do you know why? If you want a better-looking, natural, or fuller lip look, lip gloss with a brush applicator!
Lip gloss with a brush applicator has many benefits that make it very useful in your day-to-day life. Here are some of them:
Easy to use:
It's easy to use because it's not messy when used correctly. The product goes on smoothly and evenly so that no more strokes are needed to cover the entire lip surface. This makes the application process much faster than using your hands or fingers without any messes whatsoever!
Convenient:
It's convenient because it doesn't require too much time or effort to use. You can just apply it quickly and go about your day without having to worry about anything else but looking fabulous!
Create beautiful lips easily:
It's easy to create beautiful lips with just a few strokes of this product. You'll be able to see the difference in only a few seconds, which is great because it won't take up too much of your time!
MHYA Offers The Brush Applicator Made Of 100% Cruelty-Free Synthetic Hair:
Regarding the material of makeup brushes, animal hair and synthetic hair are commonly used. Animal hair has many benefits, but for animal lovers, using animal hair is cruel. MHYA respects the life of nature and also respects any consumer. Therefore, the hair used by MHYA is not from animals, but 100% cruelty-free synthetic hair.
Handy wood handle:
Lip gloss with a brush applicator has a very rustic dark green wooden handle, which is very easy to hold in your hand. Its long handle gives you more control over the angle of application, and the curved, tapered bristles allow you to apply more precisely into fine details.
Fine and firm bristles:
The fine and firm bristles help you apply the lip gloss evenly. An even lip gloss will cover your lips better and then stay longer without fading.
Cruelty-free synthetic hair:
These lip brushes are made of very healthy synthetic hair. They are 100% cruelty-free and do not harm animals in any way. They also do not contain any harmful chemicals or preservatives that can damage your health.
How To Use Lip Gloss With A Brush Applicator?
Lip gloss with a brush applicator has been popular for years. The reason is that it is easier to apply, especially when you're on the go.
Brush applicators are great for all-over lip coverage, but they also help you achieve a seamless gradient effect by using different shades of gloss in the same color family.
Here's how to use lip gloss with a brush applicator:
Step 1:
Apply the first lip gloss shade at the center of your lips and blend outwards. This will create an even base for your next layer of color.
Step 2:
Apply your second shade, in this case, a deeper red, in the same manner as step one but only to the outer edges of your lips instead of directly onto them as we did with our first layer. This will give your lips depth and dimension without having to use several shades of gloss or liner.
Step 3:
Apply the third shade, which is a glossier version of your base color, in small dabs onto the center of your lips. This step will give you a subtle sheen that will complement the other colors in your look.
Final words:
Sometimes, beauty is a state of mind. Different makeup will bring different fun. Lip gloss with a brush applicator can help you create a variety of makeup looks and make your boring life colorful. MHYA is your best partner.