All about a mini retractable makeup brush with its features
2022.09.15 / By mengheya
Every person who enjoys applying makeup should have a collection of makeup brushes. It doesn't matter whether you're an experienced makeup artist or just starting; some brushes should always be in your kit since they simplify the process of applying makeup. With the appropriate makeup brushes, you can get results that appear like they were done by a specialist, from the skin that is free of pores to eyeshadow that is elegantly matched. There are numerous different brushes available nowadays and it may be difficult to determine which ones are necessary and how to properly use them.
In this article, we will provide you with information on the following makeup brushes: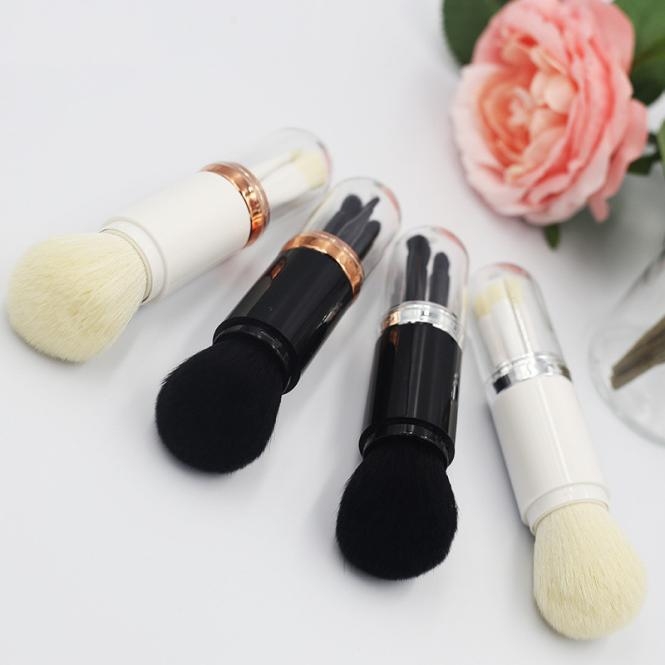 Retractable makeup brushes:
When you use a mini retractable makeup brush to put on powder or highlighter on the face, you can feel good about the fact that you are contributing to the preservation of the environment while also giving yourself a characteristic glow. The silky wooden grips of retractable brushes are produced from nature, their artificial bristles, and their elegant ferrules made from recyclable aluminium. You can get a flawless airbrushed foundation with durable application with a product that has not been tested on animals and is 100% hypoallergenic.
Specifications of Retractable makeup brushes:
Purchasing a retractable brush is already considered a premium choice, you may as well ensure that the product you are going to buy satisfies the basic guidelines before making your investment:
When people do a study on the items that they want to purchase, the aspect of value that is most important to them is obviously, the cost itself. The price of a mini retractable makeup brush may vary significantly according to the features, longevity, and perceived worth of the product. Figure out the maximum amount that you are prepared to spend on an item.
When shopping for anything, you should never overlook the importance of a product's longevity. It is important to remember that a bigger price label does not necessarily indicate outstanding performance. You should read reviews carefully regarding the functionality and parts of a particular item.
Simple Operation and Maintenance are very crucial for any product. Since it allows you to satisfy your demands and wash up immediately with no effort. A retractable brush is a good choice for you.
It is crucial to take into consideration the length and width of your retractable brush if you have a small capacity in your area, particularly if you have a smaller bathroom. The mini retractable makeup brush of MHYA is best to keep in small places. You can keep it while traveling too.
Features of Retractable makeup brush:
Consider the reasons you need an item to establish whether it is suitable for your needs. Is it because you're looking for the easiest way to satisfy your requirements? If you plan on traveling for a significant distance, you should probably look for something that will not cause your arms to hurt while you are carrying it. Because of this, you need to go with the one that is not too heavy.
Design:
The appearance of any item is quite crucial in terms of attracting buyers. The kit comes complete with retractable make-up brushes for your convenience. They feature a casing composed of smooth aluminium and a design that retracts. When the lid is removed, the soft brush head is visible. It works well for your everyday makeup routine.
Quality:
The handle of the retractable cosmetic brush is often made of metal, while the brush head is typically composed of synthetic fibre. The brush head is made with a mushroom head, and it is comfortable and perfect for everyday makeup as well as tons of makeup. It is also sturdy, waterproof, and washable.
Best for gifting purposes:
You can give it to your loved ones, admirers, and best friend on their special occasion and they will be delighted to receive it. The mini retractable makeup brush make-up brush is graceful and convenient to carry. The top of the synthetic fibre brush is luxurious and delicate, so it is beneficial to your skin.
How to maintain your brushes:
We all have a passion for makeup and are aware of the significance of using brushes to obtain the greatest coverage of foundations, pressed powders, and sometimes even highlighters. If you do not treat the brushes gently, they may break, and even the costliest kinds will begin to lose their allure after a while. It is vital to wash brushes on a routine basis since if they are not cleaned well and correctly, the results may not be acceptable. Washing brushes should be done in the correct order.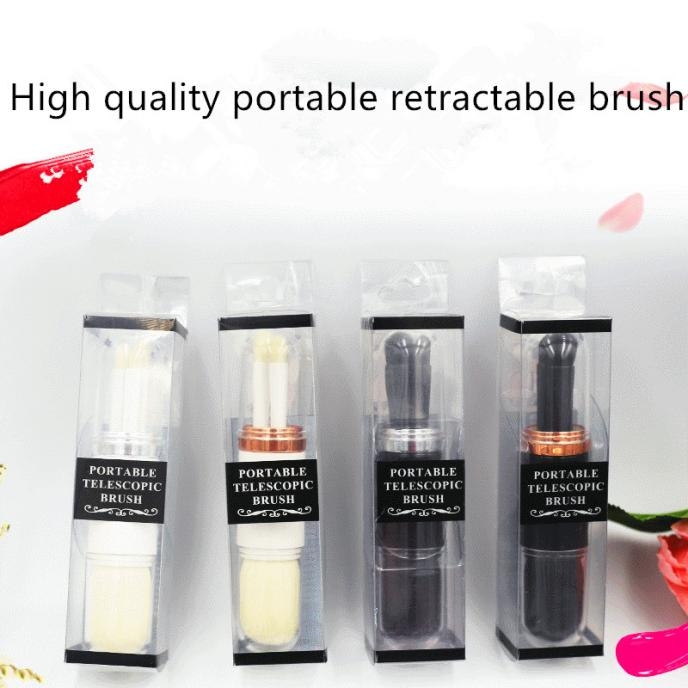 The Proper Method for Cleaning Makeup Brushes:
You should clean your brushes once every week, or once every two weeks, based on how often you use them. If you have pimples or a very delicate face, you should clean your brushes more frequently.
You should clean your brushes once every week, or once every two weeks, based on how often you use them. If you have pimples or a very delicate face, you should clean your brushes more frequently.
If you are limited on time, choose a cleanser that contains alcohol instead. Put it on a piece of paper towel, and then wipe the brush clean by dragging it over the towel after you've sprayed it.
When cleaning brushes, use a mild detergent.
After reshaping the bristles and carefully squeezing out any residual water, allow the brushes to air dry overnight. And then use your brushes, make sure they are thoroughly dry and give them at least 8 hours.
Turn your brush inverted to air dry manually.
Conclusion:
You can use a mini retractable makeup brush to maintain a smooth base. It provides flawless finishing. It sticks with powder easily and has a natural colour. If you want quality makeup brushes, you can contact MHYA on their website. The service provided by MHYA also comprises the following aspects: the acceptance of orders for a limited quantity, cost-effectiveness, and stringent examination.